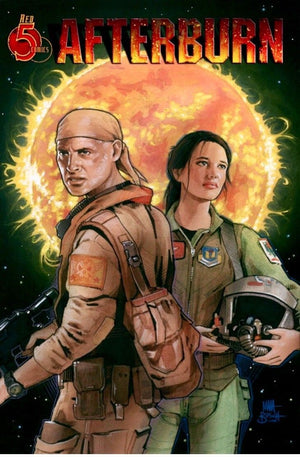 Exchange Collectibles
Afterburn #1 NM Red 5 Comics
Afterburn #1 by Red 5 Comics
Optioned for movie Gerard Butler to star in leading role.
Quote from Red 5 Comics. , "At the 2018 Berlin Film Festival, Original Film and Endurance Media announced Gerard Butler will star in the big screen adaptation of RED 5's Afterburn! Filming under Korean director Jung Byung-gil is set to start soon."
At Exchange Collectibles we pride ourselves on our shipping methods and expertise.

Shipping only to US and Canada.

CGC graded books ship USPS Priority.

Raw books ship USPS Priority legal Flat Rate

Single raw books ship USPS First Class
A year ago, a massive solar flare destroyed the Earth's eastern hemisphere with the power of a thousand nuclear bombs. But amid chaos, there's profit. That's where Jake comes in, retrieving valuable items from the remains… when he can outwit the competition and the mutated locals.