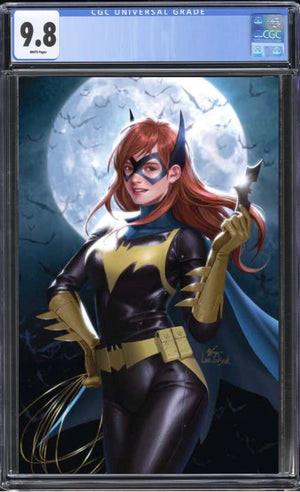 Exchange Collectibles
Batgirl 46 Inhyuk Lee Variant CGC 9.8
Batgirl 46 Inhyuk Lee Variant CGC 9.8
DC Comics Release 6/24/20
Please allow approximately 10 weeks for CGC 9.8's. With all of the shutdowns CGC is running slightly behind and could possibly be forced to temporarily shutdown. We do not fast track our submissions in order to save you money. Honestly fast track on Prescreened 9.8's doesn't save much time. Please be patient and feel free to message us for updates.

After a catfight with Catwoman last issue, Batgirl thinks Selina is right about these statues…Could they be made from…actual living Gothamites? But when her investigation leads her to the KGBeast and he tells how he was involved in Nightwing being shot, all bets are off, and Batgirl is faced with doing the right thing or doing what is right for someone she loves.