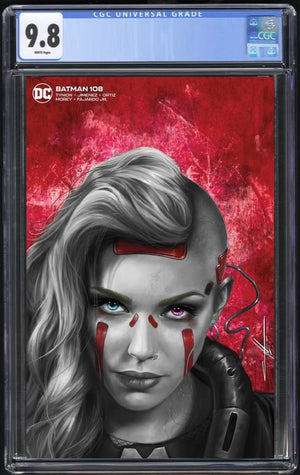 Exchange Collectibles
Batman 108 Clara Cohen Minimal CGC 9.8
Batman 108 Clara Cohen Minimal CGC 9.8
1st Appearance of Mericle Molly 
DC Comics Release 
5/4/2021
Clara Cohen Minimal Limited to 1500 Copies
Please allow approximately 12 weeks for CGC 9.8's. It's convention season and CGC is running slightly behind. We do not fast track our submissions in order to save you money. Honestly fast track on Prescreened 9.8's doesn't save much time. Please be patient and feel free to message us for updates.
(W) James Tynion IV
(A) Jorge Jimenez, Ricardo Lopez Ortiz
Batman goes undercover to infiltrate the transhumanist gang known as the Unsanity Collective and learn more about their sudden appearance in Gotham. And what nefarious plans does Simon Saint have for Arkham Day survivor Sean Mahoney? How does it connect to the Magistrate? And in part two of the action-packed, bone-rattling Ghost-Maker backup story...can our hero stand up to the horror of Kid Kawaii? Plus, don't miss the debut of the mysterious Miracle Molly!