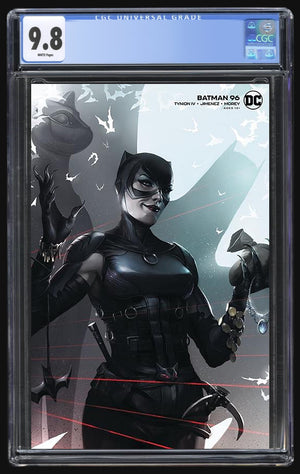 Exchange Collectibles
Batman 96 Cover B CGC 9.8
Batman 96 Cover B CGC 9.8
Please allow approximately 10 weeks from release date for CGC 9.8's. With all of the shutdowns CGC is running slightly behind and could possibly be forced to temporarily shutdown. We do not fast track our submissions in order to save you money. Honestly fast track on Prescreened 9.8's doesn't save much time. Please be patient and feel free to message us for updates.

DC Comics 08/04/20
(W) TynionIV, James
(A) Jimenez, Jorge
(CA) Mattina, Francesco
The Joker's army is growing hour by hour, with weapons beyond anything the Clown Prince of Crime has ever used before. Batman must hold his mind together so he can strike the final blow and take back his city-but how can he heal the rifts he's created in his life to get the help he needs? And while all this is happening, the villains of Gotham City are waiting out the carnage Joker has unleashed-and Catwoman assembles an army of her own!