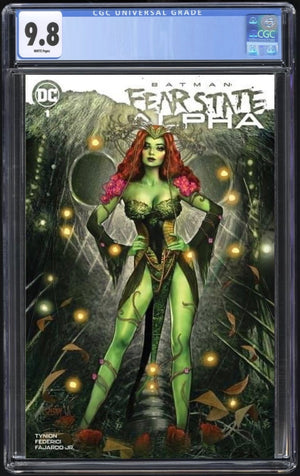 Exchange Collectibles
Batman Fear State Alpha Szerdy Trade CGC 9.8
Batman Fear State Alpha Szerdy Trade CGC 9.8
Batman Fear State Alpha Szerdy Trade Ltd 3000
Please allow up to 9 months for CGC 9.8's. CGC is running massively behind. We do not fast track our submissions in order to save you money. Honestly fast track on Prescreened 9.8's doesn't save much time. Please be patient and feel free to email us at ExchangeCollectables@gmail.com for updates.

(W) James Tynion IV
(A) Riccardo Federici
(CA) Nathan Szerdy
The event over a year in the making begins Fear State settles upon Gotham City, and no one is safe! Overwhelmed by the dual threat of the Scarecrow and Peacekeeper-01, Batman and his allies have been one step behind since the events of Infinite Frontier #0 and with the arrival of a mysterious anti-Oracle and the return of Poison Ivy, Batman might have more than he can handle!