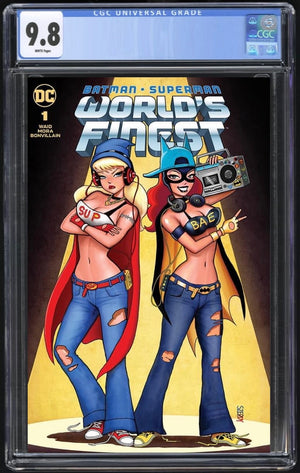 Exchange Collectibles
Batman Superman Worlds Finest #1 Szerdy Trade CGC 9.8
Batman Superman Worlds Finest #1 Szerdy Trade CGC 9.8
Trade Derss Limited to 3000 Copies
Homage to Batman Adventures #25
Please allow up to 9 months for CGC 9.8's. CGC is running massively behind. We do not fast track our submissions in order to save you money. Honestly fast track on Prescreened 9.8's doesn't save much time. Please be patient and feel free to email us at ExchangeCollectables@gmail.com for updates.

(W) Mark Waid
(A/CA) Dan Mora
Dc Comics Release 3/15/22
The Dark Knight. The Man of Steel. They are the two finest superheroes that the world has ever known...and they're together again in an epic new series from the legendary talents of Mark Waid and Dan Mora! In the not-too-distant past, Superman's powers are super-charged from a devastating chemical attack by the villain Metallo...and the only ally that the ultra-powerful Man of Tomorrow can turn to in this turbulent hour is Gotham's own dark vengeance: the Batman. A nearly fatal burst of power drives Bruce Wayne to his own extreme measures to help his friend...enlisting none other than the Doom Patrol for aid. It's the world's greatest superheroes from the world's greatest comic book talent in an epic comic book experience that kicks off the next big events in the DCU. Get ready, it's time to soar.