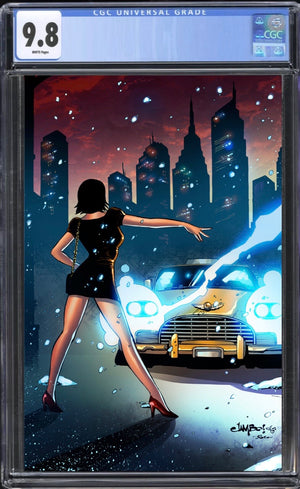 Exchange Collectibles
Black of Heart #1 Jimbo Salgado Metal CGC 9.8
Black of Heart #1 Jimbo Salgado Metal CGC 9.8
Limited to 10 Copies
Each book will be sealed with a numbered hologram security sticker in a CGC Mylar with an individually numbered certificate.
Please allow approximately 10 weeks for CGC 9.8's. With all of the shutdowns CGC is running slightly behind and could possibly be forced to temporarily shutdown. We do not fast track our submissions in order to save you money. Honestly fast track on Prescreened 9.8's doesn't save much time. Please be patient and feel free to message us for update
6 books will be raw, and 4 books will be CGC 9.8's. The 1st 4 Certificates will be CGC 9.8's.
Source Point Press Release 11/25/20
(W) Chris Charlton
(A) David Hollenbach
(CA) Jimbo Salgado 
An untraceable killer. A detective on the edge. A city that never sleeps. 1949.  A depraved serial killer stalks the streets in a yellow taxi, dumping ravaged bodies in the back alleys of New York City. Homicide Detective, Drake Harper, is condemned to pick up the pieces, but as they body count rises, Drake's life spirals out of control and no amount of booze can silence the voices of his past.