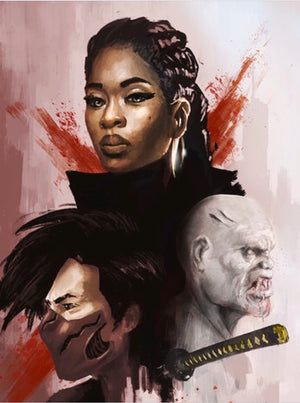 Exchange Collectibles
Bleed Them Dry 1 Esteban Salinas
Bleed Them Dry 1 Esteban Salinas
Limited Edition only 300 copies will be printed. Features art by Esteban Salines and includes B&W color splash on the back cover.
Each book will be sealed with a numbered hologram security sticker in a Mylar with a clear backing board and a certificate.
Each comic is limited to 300 copies and will come with an individually numbered certificate of authenticity.
270 books will be raw, and 30 books will be CGC 9.8's. The 1st 30 Certificates will be CGC 9.8's.
Vault Release 06/24/20
(W) Hiroshi Koizumi, Eliot Rahal

(A) Dike Ruan
(CA Cover "A") Dike Ruan
(CA Cover "B") Nathan Gooden
The year is 3333. Earth is in a state of recovery. Vampires are real, and though far less populous, they thrive alongside humans in the Japanese-engineered mega-city known as Asylum. People have come to understand that some Immortals are good, some are bad, and most navigate the world without incident. There is peace. That is…until now. Someone is brutally murdering vampires. And Detective Harper Halloway has been assigned to the case. To solve it, she'll have to unearth a much deeper truth: The future of humanity has been edited.