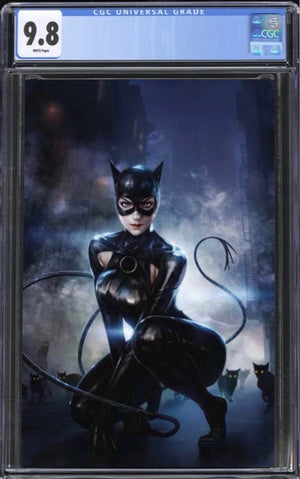 Exchange Collectibles
Catwoman 23 Woo Chul Lee Variant CGC 9.8
Catwoman 23 Woo Chul Lee Variant CGC 9.8
Key Issue 1st Appearance of Catgirl 

DC Comics Release 7/14/20
Please allow approximately 10 weeks for CGC 9.8's. With all of the shutdowns CGC is running slightly behind and could possibly be forced to temporarily shutdown. We do not fast track our submissions in order to save you money. Honestly fast track on Prescreened 9.8's doesn't save much time. Please be patient and feel free to message us for updates.
Even Catwoman needs a break from the city sometimes! Featuring a story by Eisner Award winner Sean Murphy (Batman: White Knight) and the DC debut of co-writer Blake Northcott (Vampirella), join Catwoman on this two-part story as she leaves for the jungle to blow off some steam in the best way she knows how…stealing the world's largest diamond from an annual super-secret supervillain auction, of course!