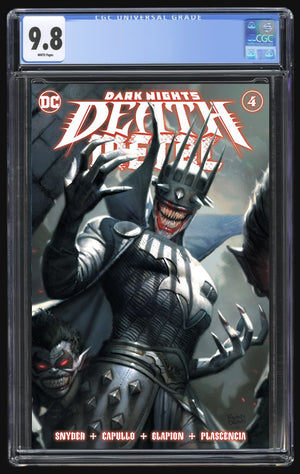 Exchange Collectibles
Dark Nights Death Metal 4 Brown Trade CGC 9.8
Dark Nights Death Metal 4 Brown Trade CGC 9.8
Trade Dress Limited to 3000 Copies
Please allow approximately 10 weeks for CGC 9.8's. With all of the shutdowns CGC is running slightly behind and could possibly be forced to temporarily shutdown. We do not fast track our submissions in order to save you money. Honestly fast track on Prescreened 9.8's doesn't save much time. Please be patient and feel free to message us for updates.

DC Comics Release 10/13/20
(W) Scott Snyder
(A/CA) Greg Capullo, Jonathan Glapion
(CA Exclusive) Ryan Brown
Wonder Woman, Batman, and Superman are trapped in nightmare worlds within the Dark Multiverse! They'll need to face down their fiercest foes once again if they hope to accomplish their mission and bring back a power capable of stopping the Darkest Knight. But what horrors has he unleased on Earth while they've been locked away?!
Due Date: 8/27/2020 / FOC: 9/3/2020 / In-Store: 10/13/2020