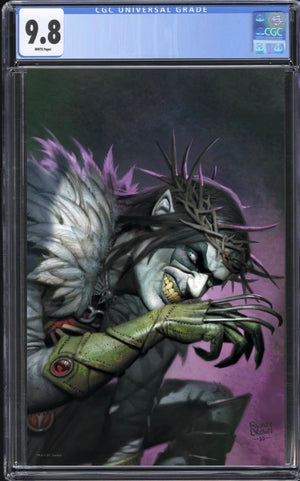 Exchange Collectibles
Dark Nights Death Metal 5 Brown Min Dress / Virgin CGC 9.8
Dark Nights Death Metal 5 Brown Min Dress / Virgin CGC 9.8 
Ryan Brown Minimal Dress / Virgin LTD 1500
Please allow approximately 10 weeks for CGC 9.8's. We do not fast track our submissions in order to save you money. Honestly fast track on Prescreened 9.8's doesn't save much time. Please be patient and feel free to email us for updates.

(W) Scott Snyder
(A/CA) Greg Capullo, Jonathan Glapion

DC Comics Release 11/17/20
The Darkest Knight has won. With absolute power at the villain's fingertips, Wonder Woman and the rest of the DC heroes are nothing to him. As the Darkest Knight turns his sights to his true goal, remaking the Multiverse in his image, can Earth's heroes rally together to make a last stand?
Due Date: 9/24/2020 / FOC: 10/11/2020 / In-Store: 11/17/2020