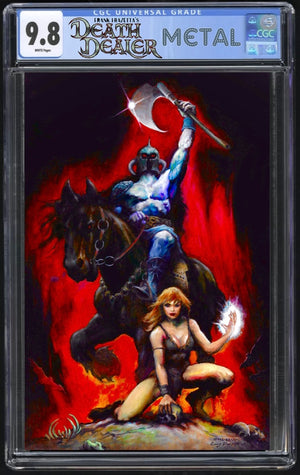 Exchange Collectibles
Death Dealer #1 Parsons Metal CGC 9.8
Death Dealer #1 Parsons Metal CGC 9.8
Casey Parsons Metal  Limited to 100 Copies

Please allow up to 9 months for CGC 9.8's. CGC is running massively behind. We do not fast track our submissions in order to save you money. Honestly fast track on Prescreened 9.8's doesn't save much time. Please be patient and feel free to email us at ExchangeCollectables@gmail.com for updates.
Opus Comics Release 5/4/22
(W) Mitch Iverson
(A) Stefano Martino
(CA) Cover A Simone Bianchi
(CA) Cover B Frank Frazetta
(CA) Exclusive Casey Parsons
Frank Frazetta's legendary creation Death Dealer returns to life in collaboration with Frazetta Girls! Critically acclaimed animation writer Mitch Iverson (Dota: Dragon's Blood, Voltron: Legendary Defender) joins world renowned artists Stefano Martino (Stranger Things) and Luis Antonio Delgado (Teenage Mutant Ninja Turtles: The Last Ronin) to bring you the first salvo in a major launch of new, related titles featuring characters envisioned by the Master himself! Bear witness to the beginning of an entire multiverse of Frazetta's most famous creations!