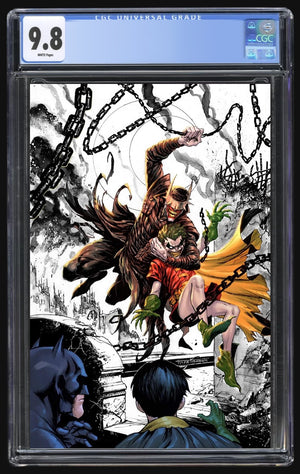 Exchange Collectibles
Detective Comics 1027 Cover C CGC 9.8
Detective Comics 1027 Cover C CGC 9.8
Cover C Partial Sketch  LTD 1000
Please allow approximately 10 weeks from Release Date for CGC 9.8's. With all of the shutdowns CGC is running slightly behind and could possibly be forced to temporarily shutdown. We do not fast track our submissions in order to save you money. Honestly fast track on Prescreened 9.8's doesn't save much time. Please be patient and feel free to message us for updates.
DC Comics Release 09/15/20
Light the signal, DETECTIVE COMICS #1027 is here! In honor of Batman's first appearance in Detective Comics #27, this special, over-sized celebration brings you the biggest names in comics chronicling the most epic Batman adventures the world of Gotham (and beyond) has ever seen! The world's finest detective has a mountain of cases to crack: Who murdered Gotham's most corrupt police officer? What does the Joker's annual visit mean for Bruce Wayne? And most importantly, what Waynetech mystery will sow the seeds of the next epic Batman event? All this and more await you within the pages of the biggest Batman issue of them all!