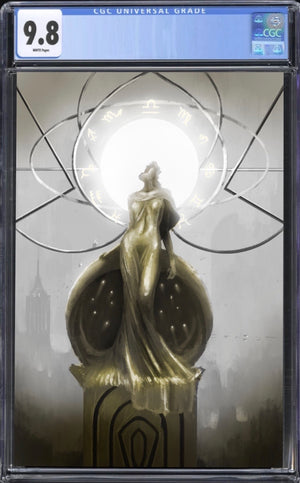 Exchange Collectibles
Engineward 1 Esteban Salinas CGC 9.8
Engineward 1 Esteban Salinas CGC 9.8

Limited Edition only 300 copies will be printed. Features art by Esteban Salines and includes greyscale  on the back cover.
Each book will be sealed with a numbered hologram security sticker in a CGC Mylar with an individually numbered certificate.
Please allow approximately 10 weeks for CGC 9.8's. With all of the shutdowns CGC is running slightly behind and could possibly be forced to temporarily shutdown. We do not fast track our submissions in order to save you money. Honestly fast track on Prescreened 9.8's doesn't save much time. Please be patient and feel free to message us for updates.
Each comic is limited to 300 copies and will come with an individually numbered certificate of authenticity.
270 books will be raw, and 30 books will be CGC 9.8's. The 1st 30 Certificates will be CGC 9.8's.
Vault  Release 07/15/20
(W) George Mann
(A) Joe Eisma
(CA Cover "A") Joe Eisma
(CA Cover "B") Nathan Gooden
Earth is an ancient myth, long forgotten. Now, the word of the god-like Celestials is absolute, and they rule with brutal efficiency. When Joss, an Engineward, discovers and reactivates the head of an ancient ghoulem, she finds all is not as intended. Her destiny-and that of her world-lies somewhere far beyond the borders of her shantytown.