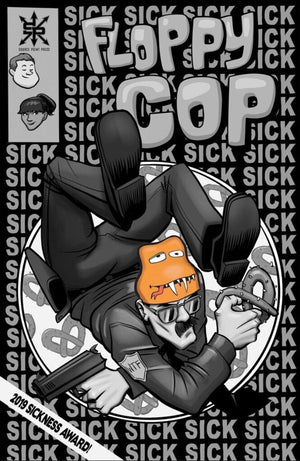 Exchange Collectibles
Floppy Cop #1 B&W Sickness Award
Floppy Cop #1 B&W Sickness Award Edition
2019 Economicsincomics  Sickness of the Year Award Edition. ASM 300 Homage 
Limited Edition only 69 copies will be printed. Features art by Dan Dougherty. Back cover has the original Concept sketch 
Each book will be sealed with a numbered hologram security sticker in a Mylar with a clear backing board and an individually numbered certificate.
49 books will be raw, and 20 books will be CGC 9.8's. The 1st 20 Certificates will be CGC 9.8's.

(W) Dan Dougherty
(A) Seth Damoose
(CA) Dan Dougherty
Join in on the absurd adventures of a cop who is bending over backwards for justice, mostly because he has no spine in his body! But as Floppy Cop always says, "you don't need to have a spine to have guts!" Together with a colorful cast of funny characters, Floppy has to solve the puzzles of a new criminal Crossword or Christmas might be ruined in the town of White Trickle Falls!