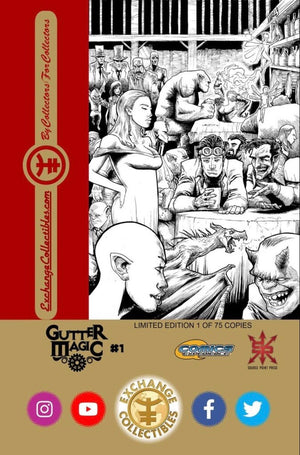 Exchange Collectibles
Gutter Magic 1 Langley Trade Dress
Limited edition only 75 copies printed.
Featuring Original pencils and inks on the rear cover.
This is not final art. Once final art is received we will update this description and send out an update through our newsletter so be sure you are subscribed. Shawn Langley has been knocking cover out of the park lately and this we are sure will be no exception. This cover reminds us of the original Star Wars creature feature bar scene. We feel Shawn has created something very special.
Each book will be sealed with a numbered hologram security sticker in a Mylar with a clear backing board and a certificate.
Each comic is limited to 75 copies and will come with an individually numbered certificate of authenticity.

65 books will be raw, and 10 books will be CGC 9.8's. The 1st 10 Certificates will be CGC 9.8's
It's magic and mayhem in Manhattan, as Cinder Byrnes finds the key to a spell that will unleash his potential as a wizard, and grant him the magical powers he's always wanted. The only problem? He can't cast a spell to save his life. With the help of his partner in crime, Blacktooth, Cinder sets out across the city, hoping to find the spell's creator before the necromantic crime lord he stole it from catches up to him.