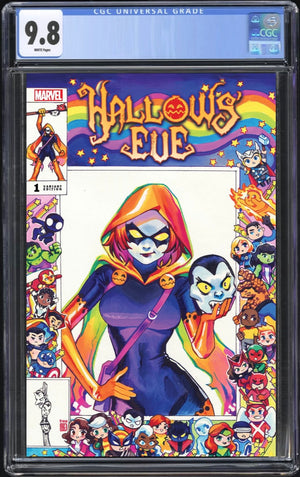 Exchange Collectibles
Hallows Eve #1 Rian Gonzalez Trade Dress CGC 9.8
Hallows Eve #1 Rian Gonzalez Trade Dress CGC 9.8
Trade Dress Limited to 3000 Copies
Please allow up to 5 months for CGC 9.8's. We do not fast track our submissions in order to save you money. Honestly fast track on Prescreened 9.8's doesn't save much time. Please be patient and feel free to email us at ExchangeCollectables@gmail.com for updates.
Homage to 25th Anniversary Edition 
Marvel Comics Release 03/01/23
(W) Erica Schultz
(A) Michael Dowling
Spinning out of AMAZING SPIDER-MAN, Hallows' Eve gets her own series!
Janine Godby's world has been blown up several times in her life, but this time. she has a bag of super-powered masks and a chip on her shoulder. She's on the run from the police, but there's someone else after her too. Don't miss this breakout character break even bigger!