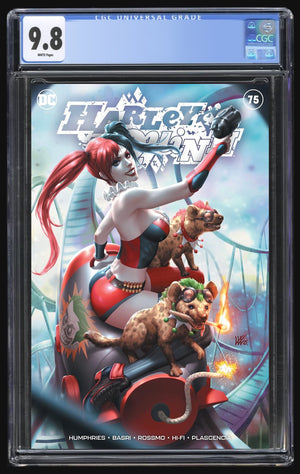 Exchange Collectibles
Harley Quinn 75 Kendrick Lim Cover A CGC 9.8
Harley Quinn 75 Kendrick Lim Cover A CGC 9.8
Cover A Limited to 3000 copies.
DC Comics Release  08/05/20
Please allow approximately 10 weeks for CGC 9.8's. With all of the shutdowns CGC is running slightly behind and could possibly be forced to temporarily shutdown. We do not fast track our submissions in order to save you money. Honestly fast track on Prescreened 9.8's doesn't save much time. Please be patient and feel free to message us for updates.


At last, it's the star-studded roast of Harley Quinn! Nothing is off-limits, no topic is out of bounds, and no one-and we mean no one!-will escape unscathed. Harley may be the funniest person in the DC Universe, but how well can she take a joke? Plus, in a backup story illustrated by superstar artist Riley Rossmo tying into 'The Joker War,' Harley Quinn faces off against Punchline!