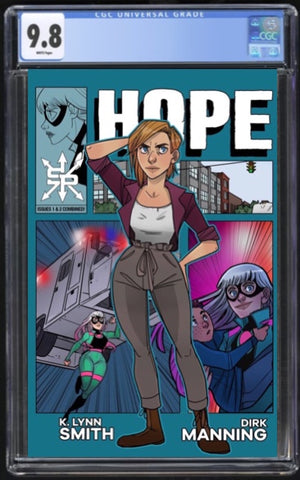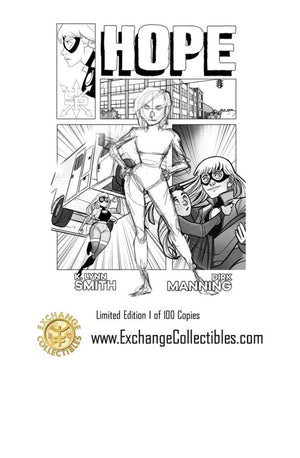 Exchange Collectibles
Hope 1,2 CGC 9.8
Hope 1,2 Double Issue
Limited edition only 100 copies printed.
Each book will be sealed with a numbered hologram security sticker in a CGC Mylar with a certificate.
Please allow approximately 10 weeks for CGC 9.8's. It's convention season and CGC is running slightly behind. We do not fast track our submissions in order to save you money. Honestly fast track on Prescreened 9.8's doesn't save much time. Please be patient and feel free to message us for updates.
Each comic is limited to 100 copies and will come with an individually numbered certificate of authenticity.

85 books will be raw, and 15 books will be CGC 9.8's. The 1st 15 Certificates will be CGC 9.8's
Her secret identity as an Ultra exposed to the world, her husband in a coma, and her daughter taken from her and placed in Emergency Protection by Child Services, Hope thought things couldn't get any worse... until the villains begin showing up to target her and her loved-ones.
In Shops: Jul 31, 2019