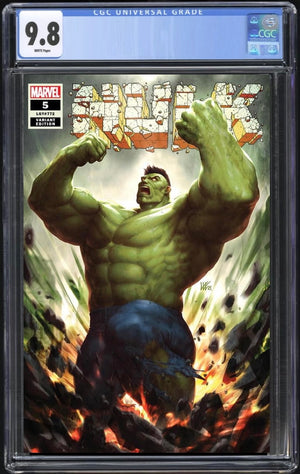 Exchange Collectibles
Hulk #5 Kunnka Trade Dress CGC 9.8
Hulk #5 Kunnka Trade Dress CGC 9.8
Trade Dress 
Limited to 3000 Copies
Please allow up to 9 months for CGC 9.8's. CGC is running massively behind. We do not fast track our submissions in order to save you money. Honestly fast track on Prescreened 9.8's doesn't save much time. Please be patient and feel free to email us at ExchangeCollectables@gmail.com for updates.

(W) Donny Cates
(A) Ryan Ottley
(CA) Kendrick (Kunnka) Lim 
"SMASHSTRONAUT" PART 5 OF 6!

•  As President Thunderbolt Ross rains down gamma-irradiated hell, Bruce Banner's Starship Hulk experiment faces its toughest field test yet - this time, it might crack under the pressure.
•  Bruce Banner thinks his control over the Hulk is now absolute... but what if he's wrong?