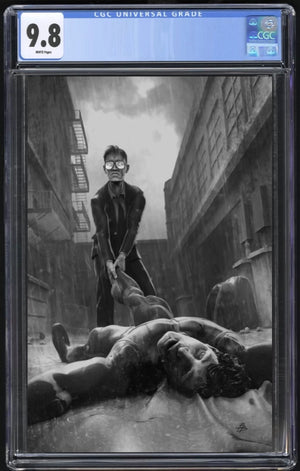 Exchange Collectibles
Knighted #1 Bjorn Barends B&W CGC 9.8
Knighted #1 Bjorn Barends B&W CGC 9.8

Barends B&W Limited to 250 Copies 
B&W is limited to 250 copies and will come with a CGC Mylar security sticker and an individually numbered certificate of authenticity 
Please allow up to 9 months for CGC 9.8's. CGC is running massively behind. We do not fast track our submissions in order to save you money. Honestly fast track on Prescreened 9.8's doesn't save much time. Please be patient and feel free to email us at ExchangeCollectables@gmail.com for updates.
AWA Upshot Release 11/03/21
(W) Gregg Hurwitz
(A) Mark Texeira, Brian Reber
(CA) Mark Texeira Cover A
(CA) Mike Deodato Jr. Cover B
(CA) Bjorn Barends Exclusive
In this action-packed adventure set in the universe of The Resistance, Gregg Hurwitz (Legends of the Dark Knight, Vengeance of Moon Knight), Mark Texeira (Ghost Rider, Wolverine), and Brain Reber (X-Men: Legacy, Spiderintroduce a masked vigilante for the 21st Century. Bob Ryder is a hapless bureaucrat whose bad luck streak comes to a crescendo when he accidentally kills the city's masked vigilante, The Knight. Oops. Now, Bob is forced to take on the mantle of the legendary hero before the city descends into chaos. Good thing he's got The Knight's former butler/assistant to show him the ropes.