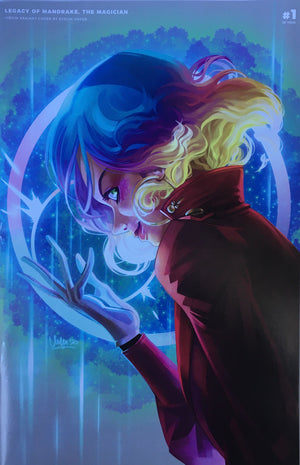 Exchange Collectibles
Legacy of Mandrake the Magician #1 Metal
Legacy of Mandrake the Magician #1 Metal
Limited Edition only 10 copies will be printed. Features art by Evelin Unfer and includes her original digital pencils and inks on the back cover.
Each book will be sealed with a numbered hologram security sticker in a Mylar with a clear backing board and a certificate.
Each comic is limited to 10 copies and will come with an individually numbered certificate of authenticity.
5 books will be raw, and 5 books will be CGC 9.8's. The 1st 5 Certificates will be CGC 9.8's.

(W) Erica Schultz
(A) Diego Giribaldi
(CA) Evelin Unfer
Red 5 Comics Release 10/28/20
King Features, Red 5 Comics, and StoneBot Studios cast a spell this October as they present a new take on the classic comic strip Mandrake The Magician in an all-new comic book series! Mandy Paz is by all appearances an ordinary teenager just trying to make her way through high school. If she seems like she's going out of her way to avoid attention, that's because she's hiding a big secret-she has powerful magical talents. So, when strange and sinister things start happening in her small town, Mandy decides to take action. And on her quest to chase down the root of the town's trouble she just might discover the truth about her own legacy.