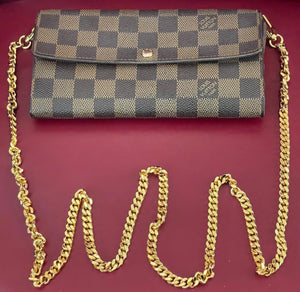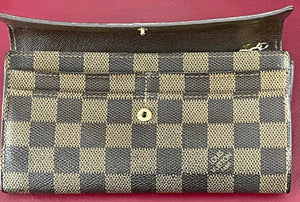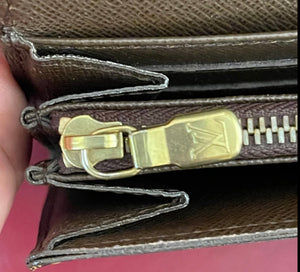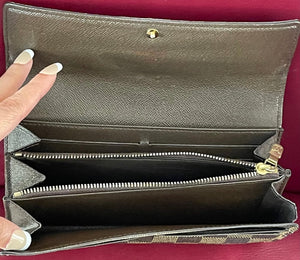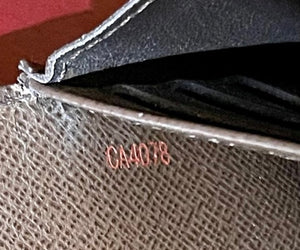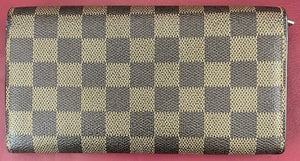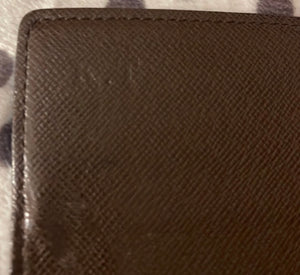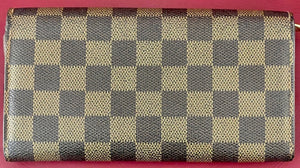 Exchange Collectibles
Louis Vuitton Damier Porte Feuille Sarah Long Bifold Wallet CA4078
All Luxury items come with a COA from Real Authentication.

Louis Vuitton Damier Porte Feuille Sarah Long Bifold Wallet. I'm Wallet is extremely clean with no cracks in the leather. Edging is in very good condition with no visible cracking.  Interior is in very good condition just very minor wear marks. Interior zipper is in good condition. Zipper pouch is lightly used. Stamped K T on the inside but only visible under angled light almost unnoticeable.
Size 7" X 4" X 1"
Included is a "Sa-mor-ga" conversation insert. This is the best way to add a chain to a wallet. We import these from South Korea. Samorga has very high quality products this is why we use them. Other kits might have a clamping kit that will deform the wallet or even worse damage it. Adding studs to a wallet requires drilling holes that permanently damages the wallet. 
42" "Sa-mor-ga" chain is not included. We are including a non branded gold tone 47" chain.
■We only sell authentic items.

■Serial Number / Date Code : CA4078

■ Made in France 

■Rating:  S

Rating Scale

Z: Brand-new or New with tag
S: Like new,only used a couple times
A: Excellent condition no noticeable damage
B: Good condition light sign of used
C: Ok condition signs of regular used with scratches and stains
D: Used condition may have light damage
E: Bad heavily used, have damage
W: Junk badly damaged must check explanation.