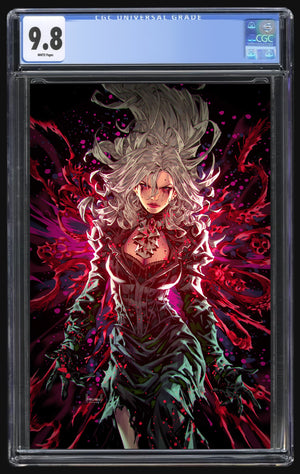 Exchange Collectibles
Mercy 6 Kael Ngu Virgin CGC 9.8
Mercy 6 Kael Ngu Virgin CGC 9.8


Limited to 500 Copies
Please allow approximately 10 weeks for CGC 9.8's. It's convention season and CGC is running slightly behind. We do not fast track our submissions in order to save you money. Honestly fast track on Prescreened 9.8's doesn't save much time. Please be patient and feel free to message us for updates.

Image Comics Release 9/30/20
(W/A/CA) Mirka Andolfo
(CA) Exclusive Keal Ngu
THE GRAND FINALE! This is it! Mirka Andolfo's limited series phenomenon reaches its cataclysmic conclusion. Heads will roll, scores will be settled, and everyone will face their own personal demons. Okay, we're not telling you anything too specific, but after all, do you really want us to spoil your surprise? Just know one thing: in the end, good always wins. But who or what is "good" in this wicked and dark fairytale?