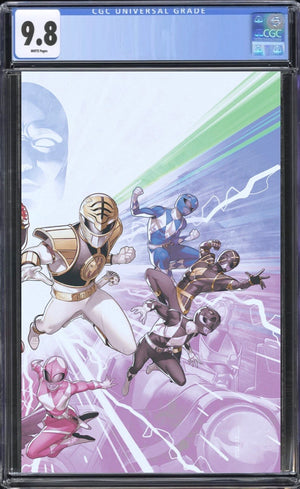 Exchange Collectibles
Mighty Morphin Power Rangers 50 Foil Wraparound CGC 9.8
Mighty Morphin Power Rangers 50 Foil Wraparound CGC 9.8
Please allow approximately 10 weeks for CGC 9.8's. With all of the shutdowns CGC is running slightly behind and could possibly be forced to temporarily shutdown. We do not fast track our submissions in order to save you money. Honestly fast track on Prescreened 9.8's doesn't save much time. Please be patient and feel free to message us for updates.
BOOM! Studios 06/24/20
The MIGHTY MORPHIN POWER RANGERS & the OMEGA RANGERS - along with surprise new allies - versus The Anointed in the conclusion to NECESSARY EVIL! ? Everything has been leading to the shocking return of a fan favorite character so big that we needed a LAST PAGE GATEFOLD to contain it! ? But what does it mean now that [SPOILER] is back?