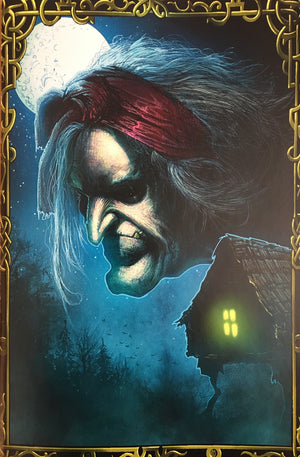 Exchange Collectibles
Monstrous Baba Yaga Virgin
Monstrous Baba Yaga Virgin 
Limited to 50 Copies
Each book will be sealed with a numbered hologram security sticker in a Mylar with a clear backing board and a certificate.
Each comic is limited to 50 copies and will come with an individually numbered certificate of authenticity.
40 books will be raw, and 10 books will be CGC 9.8's. The 1st 10 Certificates will be CGC 9.8's.
(W) Gregory Wright
(A)  Robert Nugent
(CA)  Stan Yak
Three witches break into a chicken-legged house to steal the magic of the meanest, toughest witch in the entire world: Baba Yaga! But things immediately go wrong when they succeed. Now Baba Yaga is out for revenge. Armed with steampunk weapons and surprising action moves for an old Russian lady, Baba Yaga takes on the thieves and all the magic of an entire witches' convention. Enjoy the chaos as Baba Yaga gets monstrous!