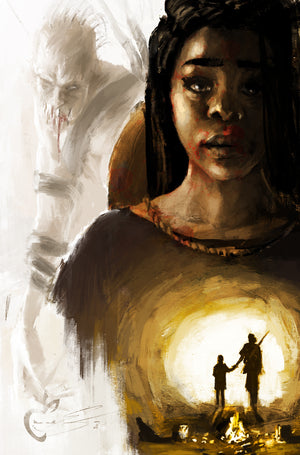 Exchange Collectibles
Mother #1 Esteban Salines Virgin
Mother #1 Esteban Salines Virgin 
Limited to 25 Copies
Each book will be sealed with a numbered hologram security sticker in a Mylar with a clear backing board and a certificate.
Each comic is limited to 25 copies and will come with an individually numbered certificate of authenticity.
19 books will be raw, and 6 books will be CGC 9.8's. The 1st 6 Certificates will be CGC 9.8's.
Source Point Press Release 11/25/20
(W) Eastin DeVerna
(A) Dan Buksa
(CA) Esteban Salinas
Koni never knew the color of the sun. It was time for her to join her mother, Asha, on her first carry out into the wastelands. They were to bring materials for water filters to the dying village of Vine Ayre, but with only seven days' time, could they make it through their unforgiving, dead world? Could Asha shield her daughter from burning in the rain? Could a mother keep her daughter safe? A harrowing and heartfelt post-apocalyptic tale set in world of The Runner.