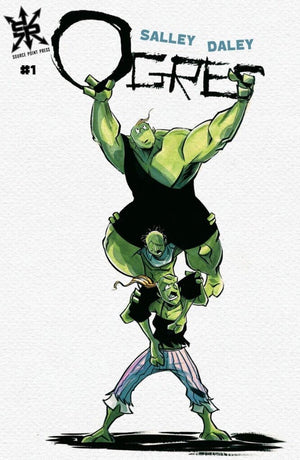 Exchange Collectibles
Ogres #1 Daily Trade Dress Variant
Ogres #1 Daily Trade Dress Variant
LTD 75 Copies
Each book will be sealed with a numbered hologram security sticker in a Mylar with a clear backing board and a certificate.

Each comic is limited to 75 copies and will come with an individually numbered certificate of authenticity.

60 books will be raw, and 15 books will be CGC 9.8's. The 1st 15 Certificates will be CGC 9.8's.

(W) Bob Salley
(A) Sean Daily
After a band of marauders called the Taesh'aar destroy their village, a group of young ogres hire an exiled dwarf to help track down these creatures and avenge their kind. The bickering crew is not alone as the dwarf has a prisoner of his own and a horde of savages hunting him down. Bob Salley and Shawn Daley bring us back into their fantasy world and show us the human condition in the harshness of decaying times for all mystical creatures.