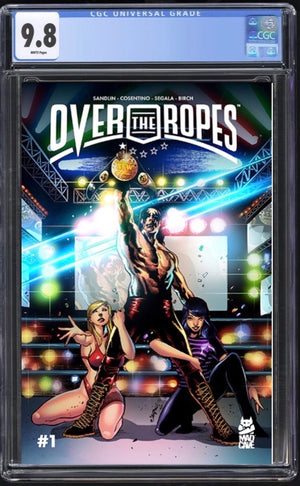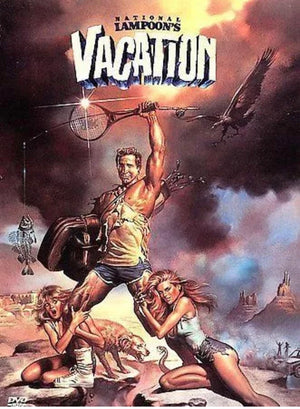 Exchange Collectibles
Over the Ropes #1 Jimbo Salgado Trade CGC 9.8
Over the Ropes #1 Jimbo Salgado Trade CGC 9.8
Limited Edition only 250 copies (100 extra copies printed to have the cover cut to create the Reader Copies included in the 3 Book sets) Features art by Jimbo Salgado. Cover is an homage to National Lampoon's Vacation which it's self is a Homage to Conan the Barbarian #1. If that wasn't enough we included Jimbo's original concept sketch on the back cover.
Trade Dress is limited to 250 copies and will come with an individually numbered certificate of authenticity.
230 books will be raw, and 20 books will be CGC 9.8's. The 1st 20 Certificates will be CGC 9.8's. The next 80 Certificates will be 3 book sets the last 150 Certificates will be raw single books.
Each book will be sealed with a numbered hologram security sticker in a CGC Mylar with a certificate.
Please allow approximately 10 weeks for CGC 9.8's. It's convention season and CGC is running slightly behind. We do not fast track our submissions in order to save you money. Honestly fast track on Prescreened 9.8's doesn't save much time. Please be patient and feel free to message us for updates.
(W) Jay Sandlin (A) Antonello Cosentino

(CA) Jimbo Salgado
Step Over the Ropes and into 1990s wrestling. Set in a fictional world, Over the Ropes dives into sports entertainment's biggest era. A young high-flyer named Jason Lynn goes off-script in a match to win the world title and sets the southern territory on fire as the face-painted wrestler, Phoenix. Jason's battles between the ropes are only outperformed by his struggles outside the ring. First dates. Crooked promoters. Cage matches. Factions and families. No matter what problems smack him with a steel chair, Jason lives by his catchphrase: I. Will. Rise.