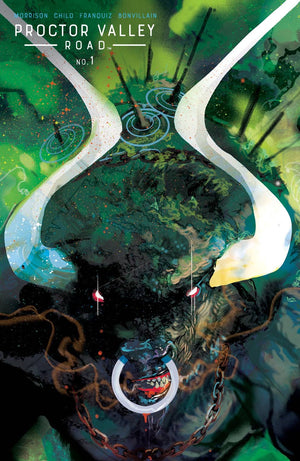 Exchange Collectibles
Proctor Valley #1 Christian Ward 1:10
Proctor Valley #1  Christian Ward 1:10
Book will come with regular bag and board 
This book is being released as a partnership between Boom Studios and UCP the Universal Studios division that is responsible for Umbrella Academy and Happy. There is currently a TV deal and adaptation in the works.
Check below link from the Hollywood Reporter about the book
https://www.hollywoodreporter.com/amp/heat-vision/proctor-valley-road-launches-ucp-graphic-at-boom-studios-in-2021
BOOM! STUDIOS 3/10/21
(W) Alex Child, Grant Morrison
(A) Naomi Franquiz
(CA) Corin Howell, Colors by Sarah Stern
Perfect for fans of Paper Girls and Die, visionary writer Grant Morrison (Klaus), Alex Child (BBC's Holby City) and Naomi Franquiz (Tales from Harrow County) present a chilling new horror series about the mysterious monsters that haunt Proctor Valley Road - and the four misfit teenagers who must stop them.
August, Rylee, Cora & Jennie have organized a "Spook Tour" with their classmates on the most haunted, demon-infested stretch of road in America to fund attending the concert of their dreams.
When their visit turns deadly, these four friends race to rescue the missing students... before the town tears them limb from limb.
Now they must slay the evils roaming Proctor Valley Road... along with the monsters lurking in the hearts of 1970s America.