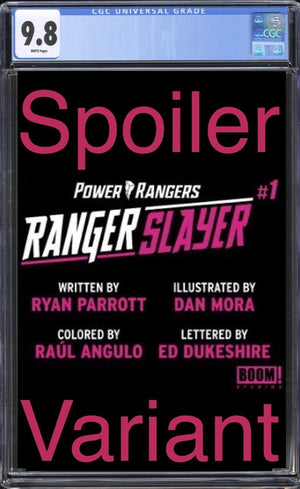 Exchange Collectibles
Ranger Slayer 1 Spoiler Variant CGC 9.8
Ranger Slayer 1 Spoiler Variant CGC 9.8
Please allow approximately 10 weeks for CGC 9.8's. With all of the shutdowns CGC is running slightly behind and could possibly be forced to temporarily shutdown. We do not fast track our submissions in order to save you money. Honestly fast track on Prescreened 9.8's doesn't save much time. Please be patient and feel free to message us for updates.
BOOM! Studios 07/22/20
The Ranger Slayer - a.k.a. Kimberly Hart, the Pink Mighty Morphin Power Ranger from the alternate universe once ruled by Lord Dakkon - returns home and nothing is like she expected. * In a world that only knows her as a villain, can Kimberly show her universe that she's become a hero... and is that even the right thing to do? * Confronted by a terrifying new version of Rita Repulsa and her home in chaos, Kimberly will make a stunning choice that no Power Rangers fan can miss. * This issue is also a perfect jumping on point for new readers - and sets the stage for the next Power Rangers epic!