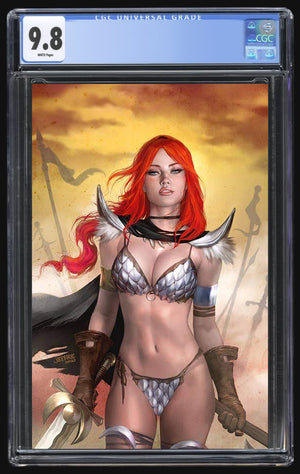 Exchange Collectibles
Red Sonja Age of Chaos #6 Burns CGC 9.8
Red Sonja Age of Chaos #6 Burns CGC 9.8
Please allow approximately 10 weeks for CGC 9.8's. It's convention season and CGC is running slightly behind. We do not fast track our submissions in order to save you money. Honestly fast track on Prescreened 9.8's doesn't save much time. Please be patient and feel free to message us for updates.
(W) Eric Burnham
(A) Jonathan Lau
(CA) Josh Burns
IDW Release 08/12/20

The power of Kulan Gath's amulet has finally been claimed by one of those who sought it - and only Red Sonja is left to stave off the end of all things! It's a literal she-devil vs. the She-Devil with a Sword as Sonja and Purgatori meet in pitched battle to decide the fate of time itself... One way or another, the Age of Chaos will end here!