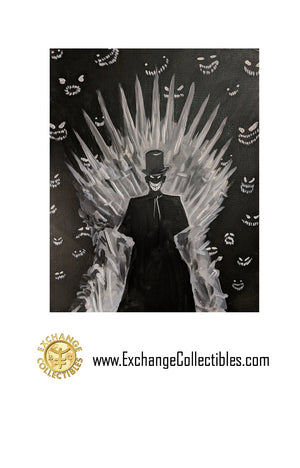 Exchange Collectibles
Rejected # 1 Game of Thrones Homage Iron Throne Variant. CGC 9.8
Limited edition only 100 copies printed. 
Featuring a painted cover and concept painted sketch on rear cover by impressionist painter Rob Hogan.
W) Stan Konopka 
(A) Corey Christian Anderson 
(CA) Bob Hogan 
Billy is hounded, bullied and abused. He wants nothing more than a loving family, but it doesn't seem to be in the cards for him. That hate. That dejection. It calls out in Billy's voice and, this time, something answered. The Rejected, led by Mr. Teeth, offer Billy otherworldly protection and a place in the family. They give him the strength to take his revenge on anyone that maligned him. The Rejected can make your dreams come true, but at what price?
Each book will be sealed with a numbered hologram security sticker in a Mylar with a clear backing board and a certificate.
Each comic is limited to 100 copies and will come with an individually numbered certificate of authenticity.
85 books will be raw, and 15 books will be CGC 9.8's. The 1st 15 Certificates will be CGC 9.8's
Shipping only to US and Canada.
CGC graded books ship USPS Priority.
Raw books ship USPS Priority legal Flat Rate
Single raw books ship USPS First Class
Please be aware that you will be billed for your pre-ordered items at the time of purchase.  Due to the nature of collectibles, we cannot accept cancellations on pre-ordered items.  Please review your order carefully before you checkout.

If you order multiple items in the same order, please note that your order will not ship until all of your items are in stock. If you would like your items to ship as soon as possible, please consider making a separate order for items that are not yet released (pre-orders) from the ones that  are already released or will release sooner.