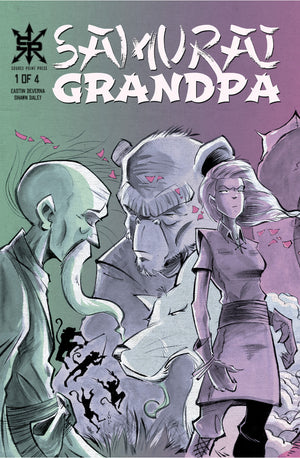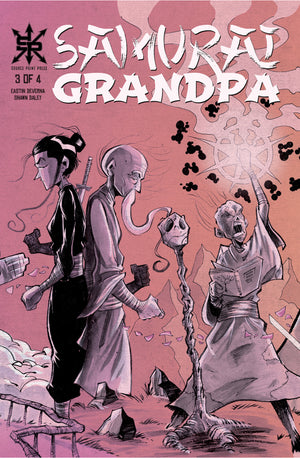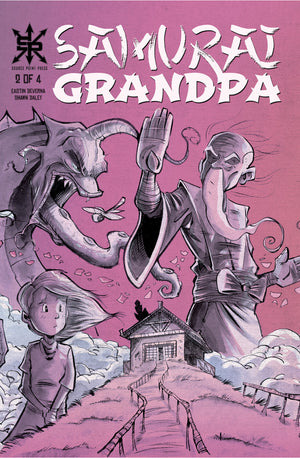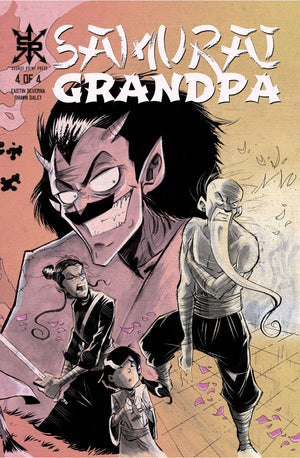 Exchange Collectibles
Samurai Grandpa 1-4 Connecting Variants, Trade Dress
Samurai Grandpa 1-4 Chapter connecting cover sets
Limited edition only 75 four book sets will be printed.

Featuring art by Shawn Daily with original pencils and inks on the rear cover. The 4 books form a single image
Each book will be sealed with a numbered hologram security sticker in a Mylar with a clear backing board and a certificate.
Each four book set is limited to 75 copies and will come with an individually numbered certificate of authenticity.
70 four book sets will be raw, and 5 four book sets will be CGC 9.8's. The 1st 5 Certificates will be CGC 9.8 sets
Samurai Grandpa #1
After retiring the blade, Ojichan returns home from the mountains to find his family visited by disaster, and his granddaughter kidnapped by one of his greatest foes from the past. Now Ojichan must set out one last time into a mysterious and magical world and face enemies new and old, in order to bring his granddaughter back.
In Shops: Jun 26, 2019
Samurai Grandpa #2
Ojichan's journey brings him to a quiet fishing village on the seemingly impassable Lake Hasai. There he meets an odd little girl and decides to cross the lake, despite the villagers' warnings. What dangers lurk in those dark waters? The adventure continues in this mysterious and action-packed second chapter!
In Shops: Jul 31, 2019
Samurai Grandpa #3
After an encounter with the chimera of the sea, Ojichan finds himself, along with the unexpected companion Astrid, at the gates of the Kingdom of Death. What secrets lie beyond those gates? Can he find the answer to who killed his son and kidnapped his granddaughter? Find out in this next exciting and action packed chapter!
In Shops: Aug 28, 2019
Samurai Grandpa #4
No preview available
Estimated In Shops: Sep 25, 2019
Shipping only to US and Canada.
CGC graded books ship USPS Priority.
Raw books ship USPS Priority legal Flat Rate
Single raw books ship USPS First Class