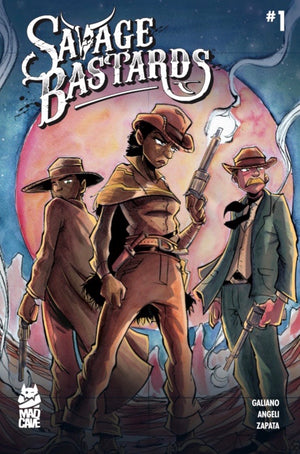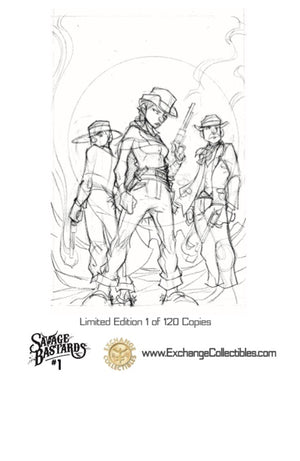 Exchange Collectibles
Savage Bastards #1 Trade Dress
Savage Bastards #1 Trade Dress with cover art by Shawn Daily from Ogres. Features Shawn's pencils and inks on the rear cover.

Limited Edition only 120 copies of the Trade Dress, and 50 copies of both the Virgin and Old-Time Sepia will be printed. Features art by Shawn Daily. Back covers will feature Shawn's pencils and inks.
Each book will be sealed with a numbered hologram security sticker in a Mylar with a clear backing board and a certificate.
Trade Dress is limited to 120 copies and will come with an individually numbered certificate of authenticity.
110 books will be raw, and 10 books will be CGC 9.8's. The 1st 10 Certificates will be CGC 9.8's. The next 40 Certificates will be 3 book sets the last 70 Certificates will be raw single books.
(W) David Galiano
(A) Carlos Angeli
(CA) Shawn Daily
Mad Cave
Savage Bastards is a story of brotherhood, revenge, and betrayal. Set in 1873, follow half brothers, Sam and Elliot, as they fight across a series of satellite towns in the Sonoran Desert in order to save Elliot's mother from their sadistic, sociopath of a father, Darragh MacDougal and the rest of his crazy bastard children.