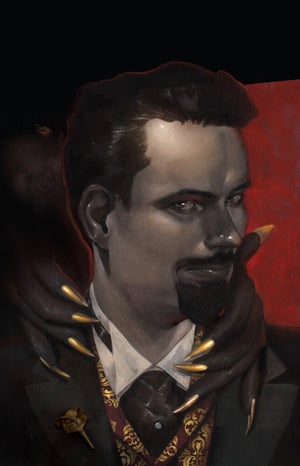 Exchange Collectibles
Seance Room #1 Virgin
Seance Room #1 Virgin
Limited To  50 Copies
Each book will be sealed with a numbered hologram security sticker in a Mylar with a clear backing board and a certificate.
Each comic is limited to 50 copies and will come with an individually numbered certificate of authenticity.
40 books will be raw, and 10 books will be CGC 9.8's. The 1st 10 Certificates will be CGC 9.8's.
The Seance Room is a place beyond time and space that exists inside of a castle owned by an eccentric ghost monger. Six ghosts have been trapped there, each with their own expertise of the expired.  The debut issue opens the door of the mansion to career politician Senator Donahue. He crashes his car and his hopes at the Magic Manor and, in the Seance Room, he will have to account for his two-faced ways. 
(W) Ben Goldsmith
(A) Keyla Valerio