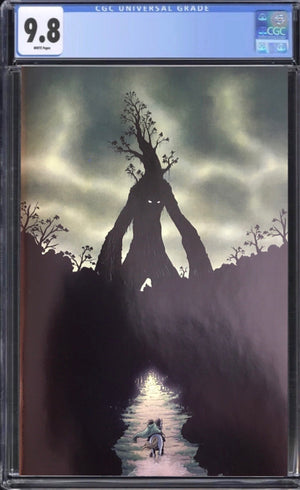 Exchange Collectibles
Seeress Terkon Virgin CGC 9.8
Seeress Terkon Virgin CGC 9.8
Limited to 50 Copies
Each book will be sealed with a numbered hologram security sticker in a CGC Mylar with an individually numbered certificate.
Please allow approximately 10 weeks for CGC 9.8's. With all of the shutdowns CGC is running slightly behind and could possibly be forced to temporarily shutdown. We do not fast track our submissions in order to save you money. Honestly fast track on Prescreened 9.8's doesn't save much time. Please be patient and feel free to message us for updates.
40 books will be raw, and 10 books will be CGC 9.8's. The 1st 10 Certificates will be CGC 9.8's.

(W) Kasey Pierce
(A)  Jay Jacot
A forest damned by a rooted and abominable evil enchants and engulfs the child of Nasta and warlock father, Gotin. "The Order" calls for a no-holds-barred assault on the woods, its hell spawn creatures, and its leader, Terkon. The battle pierces, splinters, and splits the bodies, souls, and the future of this magical family.