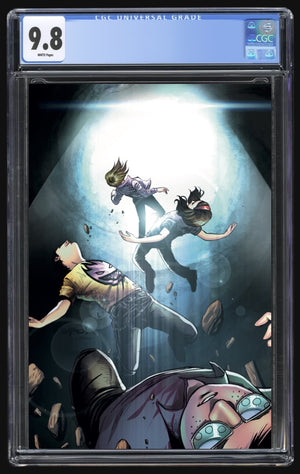 Exchange Collectibles
Stargazer #1 Salgado Metal CGC 9.8
Stargazer #1 Salgado Metal CGC 9.8


Limited to 20 Copies
Each book will be sealed with a numbered hologram security sticker in a CGC Mylar with an individually numbered certificate.
Please allow approximately 10 weeks for CGC 9.8's. With all of the shutdowns CGC is running slightly behind and could possibly be forced to temporarily shutdown. We do not fast track our submissions in order to save you money. Honestly fast track on Prescreened 9.8's doesn't save much time. Please be patient and feel free to message us for update
12 books will be raw, and 8 books will be CGC 9.8's. The 1st 10 Certificates will be CGC 9.8's.
MAD CAVE STUDIOS Release 9/9/20
(W) Anthony Cleveland
(A) Antonio Fuso
(CA) Jimbo Salgado
Years ago Shae, her brother Kenny, and two childhood friends experienced a traumatic, unexplainable event that left Kenny scarred for life. Kenny commits himself to the belief that what they experienced was an alien abduction. Twenty years later and the friends have since drifted apart, but the sudden, mysterious disappearance of Kenny leads the group to reunite and discover the truth of what took place all those years ago.