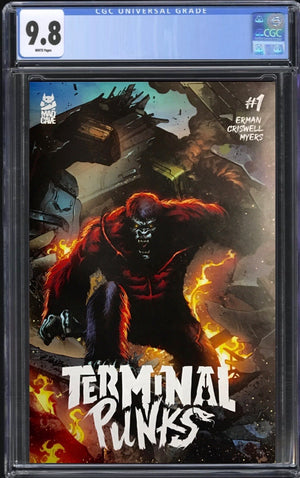 Exchange Collectibles
Terminal Punks #1 Jimbo Salgado Trade Dress CGC 9.8
Terminal Punks #1 Jimbo Salgado Trade Dress CGC 9.8
Limited to 125 Copies
Each book will be sealed with a numbered hologram security sticker in a CGC Mylar with an individually numbered certificate.
Please allow approximately 10 weeks for CGC 9.8's. With all of the shutdowns CGC is running slightly behind and could possibly be forced to temporarily shutdown. We do not fast track our submissions in order to save you money. Honestly fast track on Prescreened 9.8's doesn't save much time. Please be patient and feel free to message us for update
105 books will be raw, and 20 books will be CGC 9.8's. The 1st 20 Certificates will be CGC 9.8's.
Mad Cave Release 11/11/20
(W) Matthew Erman
(A) Shelby Criswell
(CA) Jimbo Salgado
Four greasy gutter punk teens are en route to their big show in the Big Apple, but when things go monstrously wrong and mutant animals are unleashed in the airport, our heroes must put on their combat boots, fly their Black Flag, and survive a viral genetic mutant nightmare. Terminal Punks is a blaring love letter to the music and attitude of rebellion!