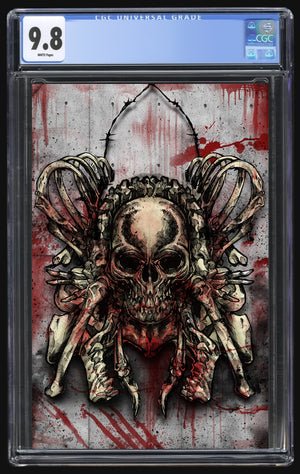 Exchange Collectibles
The Prisoner #1 Chinh Potter Virgin CGC 9.8
The Prisoner #1 Chinh Potter Virgin CGC 9.8
Limited to 25 Copies
Each book will be sealed with a numbered hologram security sticker in a CGC Mylar with an individually numbered certificate.
Please allow approximately 10 weeks for CGC 9.8's. With all of the shutdowns CGC is running slightly behind and could possibly be forced to temporarily shutdown. We do not fast track our submissions in order to save you money. Honestly fast track on Prescreened 9.8's doesn't save much time. Please be patient and feel free to message us for updates.
19 books will be raw, and 6 books will be CGC 9.8's. The 1st 6 Certificates will be CGC 9.8's.
(W) Luke Durdin
(A) Gordon Court
(CA) Chinh Potter

Source Point Press Release 10/30/20
Andre exists on the razor's edge between life and death. The daily reality in a thankless paramedic career, scrambling to save victims from the endless mayhem of his crimeridden city.  Andre thinks he's seen the dark side of humanity... Unaware of the rampant increase in missing persons... Of the monster stalking the streets... And he's about to learn that courage and willpower are empty virtues, when faced with suffering and agony devoid of mercy!