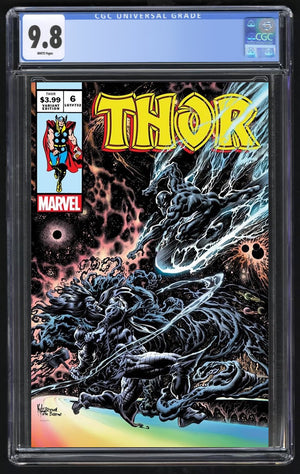 Exchange Collectibles
Thor 6 Kyle Holtz Trade CGC 9.8
Thor 6 Kyle Holtz Trade CGC 9.8
Trade LTD 2100
Please allow approximately 10 weeks for CGC 9.8's. With all of the shutdowns CGC is running slightly behind and could possibly be forced to temporarily shutdown. We do not fast track our submissions in order to save you money. Honestly fast track on Prescreened 9.8's doesn't save much time. Please be patient and feel free to message us for updates.
Stunning homage to Silver Surfer 4.
Featuring Black Winter Thor & Silver Surfer Black.
(W) Donny Cates
(A) Nic Klein
(CA) Kyle Holtz
Marvel Comics 08/19/20
THE DEATH OF KING THOR! The Black Winter has the power to reveal the means of any person's demise - and if the vision is true, Asgard is going to need a new Odinson to take the throne! But Thor is no mere herald or king - and even the death of all existence should fear his coming wrath. Rated T+