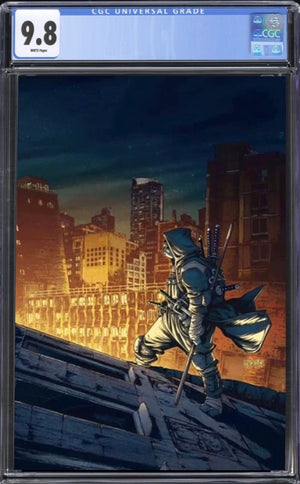 Exchange Collectibles
TMNT Last Ronin 1:25 CGC 9.8 Santolouco Ratio Variant
TMNT Last Ronin 1:25 CGC 9.8 Santolouco Ratio Variant
Release  10/28/20
Please allow approximately 10 weeks for CGC 9.8's. With all of the shutdowns CGC is running slightly behind and could possibly be forced to temporarily shutdown. We do not fast track our submissions in order to save you money. Honestly fast track on Prescreened 9.8's doesn't save much time. Please be patient and feel free to message us for updates.
Note: These are magazine sized perfect bound books. Cover price on the standard covers is $8.99
IDW Release  10/28/20
It's the TMNT event of 2020! Springing from the minds of TMNT co-creators Kevin Eastman and Peter Laird comes an epic like you've never seen before! In a future NYC far different than the one we know today, a lone surviving Turtle goes on a seemingly hopeless mission to obtain justice for his fallen family and friends. Kinetic layouts from Eastman, moody inks from Andy Kuhn and a thrilling script full of surprises from longtime TMNT scribe Tom Waltz all combine to make this one of the most memorable TMNT stories you will ever read! Oversized in both format and page count, this is a perennial TMNT tale that can't be missed!