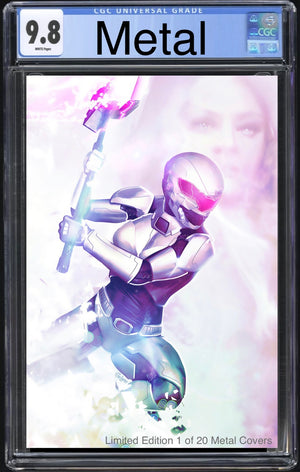 Exchange Collectibles
Unborn #1 Hal Laren Metal CGC 9.8
Unborn #1 Hal Laren Metal CGC 9.8
MetalLimited to 20 Copies 
Each book will be sealed with a numbered hologram security sticker in a CGC Mylar with a certificate.
Metalis limited to 20 copies and will come with an individually numbered certificate of authenticity.
Please allow up to 9 months for CGC 9.8's. CGC is running massively behind. We do not fast track our submissions in order to save you money. Honestly fast track on Prescreened 9.8's doesn't save much time. Please be patient and feel free to email us at ExchangeCollectables@gmail.com for updates.
Source Point Press Release 9/29/21
(W) Frank Gogol
(A) Ev Cantada
(CA) Hal Laren
For fans of Alien and Power Rangers! On a strange world, five explorers mine for super fuels in a last-ditch effort to save a collapsing Earth, but the mission goes to hell when they are overrun by a hostile alien species. With humanity's survival hanging in the balance, the crew must eradicate the deadly horde and salvage the mission. But what if the monsters aren't the only things they have to worry about? What if the most dangerous threat facing the crew is each other?