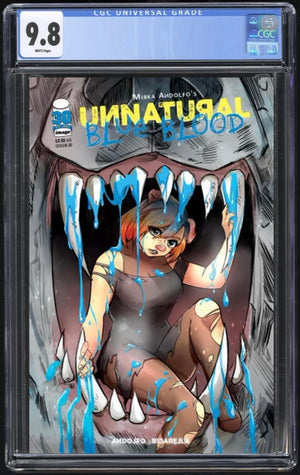 Exchange Collectibles
UNNATURAL BLUE BLOOD #1 SAOWEE TRADE DRESS CGC 9.8
UNNATURAL BLUE BLOOD #1 SAOWEE TRADE DRESS CGC 9.8
Trade Dress Limited to 750 Copies
Please allow up to 9 months for CGC 9.8's. CGC is running massively behind. We do not fast track our submissions in order to save you money. Honestly fast track on Prescreened 9.8's doesn't save much time. Please be patient and feel free to email us at ExchangeCollectables@gmail.com for updates.

IMAGE COMICS

(W) Mirka Andolfo
(A) Ivan Bigarella
(CA) Saowee
 
NEW STORY ARC

UNNATURAL IS BACK! Three years after acclaimed creator MIRKA ANDOLFO's first blockbuster, Leslie and Khal return for a thrilling new adventure!

A few years have passed since Leslie saved the world from hidden dangers and came to understand her true nature in the process. Everything seems to be working out-and not just for Leslie and her newly formed family, but for the rest of the world as well. 

But appearances can be deceiving. A new threat is about to disrupt Leslie's peaceful existence, and once again, her life will never be the same. 

Don't miss this new limited series written by MIRKA ANDOLFO, illustrated by celebrated artist IVAN BIGARELLA, and periodically featuring original artwork from MIRKA herself!