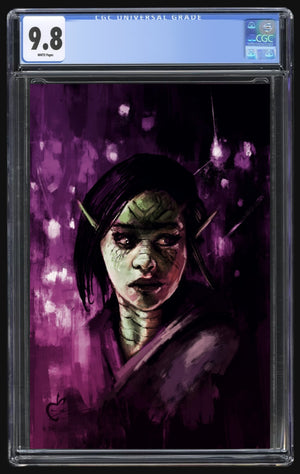 Exchange Collectibles
Villainous 1 Salinas Virgin CGC 9.8
Villainous 1 Salinas Virgin CGC 9.8
Limited to 50 Copies
Each book will be sealed with a numbered hologram security sticker in a CGC Mylar with an individually numbered certificate.
Please allow approximately 10 weeks for CGC 9.8's. With all of the shutdowns CGC is running slightly behind and could possibly be forced to temporarily shutdown. We do not fast track our submissions in order to save you money. Honestly fast track on Prescreened 9.8's doesn't save much time. Please be patient and feel free to message us for updates.
40 books will be raw, and 10 books will be CGC 9.8's. The 1st 10 Certificates will be CGC 9.8's.
Mad Cave Studios 10/14/20

(W) Stonie Williams
(A) Jeferson Sadzinski
(CA) Esteban Salinas 
Tilly, one of the newest super-powered people to join the Coalition of Heroes, is doing her best to navigate the dizzying world of superheroes. Working with her idols should be a dream come true, but when she learns the truth, Tilly's dream quickly becomes a nightmare. Now, Tilly has to make a choice - Get in line and stand with her heroes, or take a stand and risk becoming something more... Villainous.