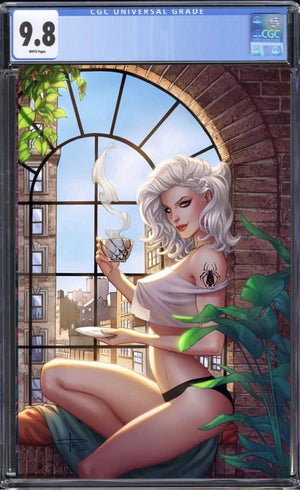 Exchange Collectibles
White Widow #1 Sabine Riche A CGC 9.8
White Widow #1 Sabine Riche A CGC 9.8
Day Limited to 300 copies
Please allow approximately 10 weeks for CGC 9.8's. With all of the shutdowns CGC is running slightly behind and could possibly be forced to temporarily shutdown. We do not fast track our submissions in order to save you money. Honestly fast track on Prescreened 9.8's doesn't save much time. Please be patient and feel free to message us for updates.
Absolute Comic Group
(W) Benny Powell
(A) Jamie Tyndall, Iwan Nazif
(CA) Sabine Riche
"Gabrielle Garcia was a typical American girl going to college to follow in her father's footsteps - or so she thought. One night, her father barged into her dorm room, suffering from a fatal gunshot, and injected her with... something. That was the moment she became the White Widow.