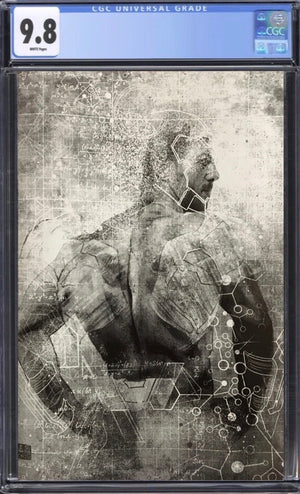 Exchange Collectibles
X-O Manowar #1 Zu Orzu B&W CGC 9.8
X-O Manowar #1 Zu Orzu B&W CGC 9.8
Limited Edition only 250 copies of the B&W will be printed. Features art by Zu Orzu. Back cover features our favorite panel from inside the book.
Please allow approximately 10 weeks for CGC 9.8's. It's convention season and CGC is running slightly behind. We do not fast track our submissions in order to save you money. Honestly fast track on Prescreened 9.8's doesn't save much time. Please be patient and feel free to message us for updates.
Each book will be sealed with a numbered hologram security sticker in a CGC Mylar with a certificate.
B&W is limited to 250 copies and will come with an individually numbered certificate of authenticity.
200 books will be raw, and 50 books will be CGC 9.8's. The 1st 50 Certificates will be CGC 9.8's. The next 200 Certificates will be 3 book sets.
(W) Dennis (Hopeless) Hallum
(A) Emilio Liaso
(CA) Zu Orzu 
Valiant Entertainment
WIN THE BATTLE, LOSE THE WORLD. Aric of Dacia, a 5th century warrior catapulted into the modern day, has been bonded with the sentient alien armor, Shanhara. Together, they are the most powerful weapon in the world: X-O Manowar. As a mysterious new villain arises to threaten the world, will this ancient warrior evolve into the superhero we need today?