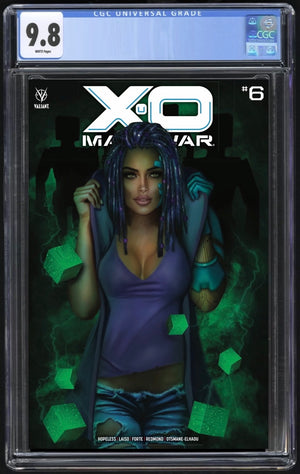 Exchange Collectibles
X-O Manowar #6 Piper Rudich Trade Dress CGC 9.8
X-O Manowar #6 Piper Rudich Trade Dress CGC 9.8
Rudich Trade Dress Limited to 600 copies 
Please allow up to 9 months for CGC 9.8's. CGC is running massively behind. We do not fast track our submissions in order to save you money. Honestly fast track on Prescreened 9.8's doesn't save much time. Please be patient and feel free to email us at ExchangeCollectables@gmail.com for updates.
(W) Dennis "Hopeless" Hallum
(A) Emilio Laiso
(CA) Piper Rudich
"THE TEXTBOOK DEFINITION OF WHAT A GREAT SUPERHERO COMIC CAN BE" - MULTIVERSITY COMICS
"ACTION-PACKED AND ONE HECK OF AN EMOTIONAL RIDE" - BEYOND THE PANEL
X-O Manowar has saved the planet from hostile forces countless times before, but the new threat that looms in front of him is unlike anything he has faced before. And with his sentient alien armor glitching, X-O's situation is about to get much worse...