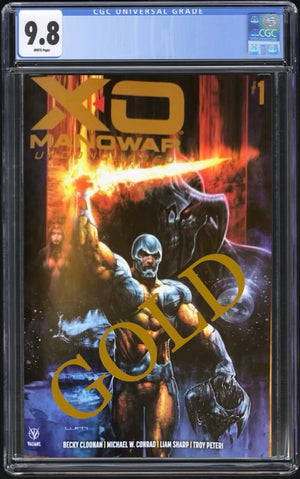 Exchange Collectibles
X-O Manowar Unconquered #1 Gold CGC 9.8
X-O Manowar Unconquered #1 Gold CGC 9.8
Valiant Entertainment Release 3/22/23
Please allow up to 5 months for CGC 9.8's. We do not fast track our submissions in order to save you money. Honestly fast track on Prescreened 9.8's doesn't save much time. Please be patient and feel free to email us at ExchangeCollectables@gmail.com for updates.
(W) Becky Cloonan, Michael Conrad
(A) Liam Sharp
Past, present, and future collide as X-O MANOWAR returns for its 30th anniversary in an unforgettable new series by superstar creators Becky Cloonan, Michael W. Conrad, and Liam Sharp that promises to put the king back on his throne and chart a new course for Valiant's flagship series.